This is a Sponsored post written by me on behalf of Personal Capital for SocialSpark. All opinions are 100% mine.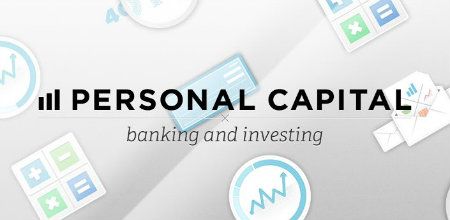 The single most important part of your financial life is knowing what you have and where it is. It seems like life has gone mobile, and your finances should be no different.
Keeping tabs with all aspects of your finances is extremely important, and with Personal Capital's mobile apps, personal finances are literally at your fingertips.
The Personal Capital Application, available on iPhone, iPad and Android, allows you to access all your financial accounts in one aggregated view by giving you a holistic view of all of your accounts.
User's asset growth is presented in a beautiful, concise, and clear format. Accounts from disparate investment formats (such as mutual funds, stocks, money market accounts, checking/savings) are integrated with ease. Now, you can track your income and spending, see your largest expenses, and easily view your transactions.
Private investment advisors are available to provide additional account management services for a low 1% fee, but the app itself is 100% free!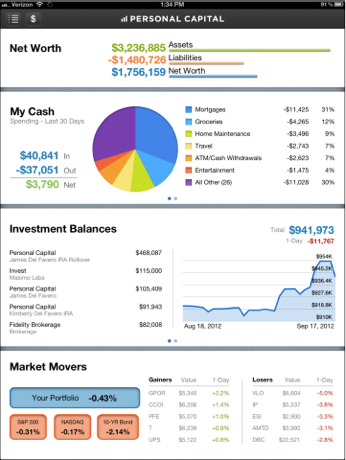 These features make up the core of what I believe are the app's best features:
Portfolio Performance – You can track your investments by account, asset class or individual security. Know what you own and how it's performing. Pinpoint market movers and how your portfolio compares to major indices. Put yourself in the driver's seat when it comes to your investments.
Asset Allocation – Just how diversified are you? Discover where you are invested, from international stocks to bonds, from alternatives to cash and finding the exact percentage of each asset class within your portfolio.
Mobile App opportunities – Most users use smartphones these days. The app can certainly get you up to date on account balances and transactions, plus investment performance and market gainers and losers no matter where you are.
Investment Check Up – You will be able to pinpoint potential investment risks within your portfolio. Identify mutual fund fees and see if you are on par with your financial goals.
401k Free Organizer – Find out if you're paying too much in 401k fees. This free tool will benchmark your 401k against their own 0.5% plan and determine where your plan stands.
Mutual Fund Fee Calculator – Instantly know just how much your investments are costing you. This calculator shows you just how much investment fees could cost you over time enabling you not only to invest better, but also ultimately save you money.
Universal Checkbook – Send money to anyone, anywhere with just a few swipes and taps on your smartphone or tablet. Make sure you enroll any one of your checking accounts by taking a snapshot of a paper check. Saves time and a stamp, right?
There are a bevy of other useful features that can be found in the app. The best way to really grasp what I am talking about, sign up now and download the app to your mobile devies. There is also an Android version for this aside from iOS so users can get the best of both worlds. Try it now!
You can also check out this short video to get a visual overview about Personal Capital.
Personal Capital Benefits from Personal Capital on Vimeo.